Get you and your family organized with these great tips!
Time to Clean Up
We know that life with kids is often chaotic and slightly messy too. That is why we compiled 16 clever and easy ways to get your family and life just a little more organized. You will be shocked to see how much of difference these quick, cheap tips will make in getting your life just a little more organized! Let the organizing begin!
Bins in your fridge
Use pull out, clear baskets to help keep food organized. You can even add labels to the bins if you want, and this is a really easy and cheap way to keep your refrigerator looking clean and organized. These are durable and come in various sizes to customize and organize the fridge or pantry to your specifications.
Image via: Crate & Barrel
Tension curtain rods as dividers
Tension curtain rods are cheap and easy to buy, and work really well to divide items in cupboards. Store serving trays, platters, and cutting boards with tension curtain rods. Measure the vertical distance between two cupboard shelves. Position appropriate-size rods between the shelves, as shown. Twist rods to tighten, so their inner springs will keep them upright. Use two rods on both sides of each item, spacing them according to the dimensions of individual pieces.
Image and tip via: Martha Stewart
Shower curtain rods to store lids
Shower curtain rods or magazine racks are great and cheap ways to organize all your pot lids! This is also a great place to store your pot holders too! This quick tip is sure to keep your cupboards looking nice and clean, just the way you like it!
Image via: Kitchenisms
Have a list pad
Having a list-pad somewhere in your kitchen is a great way to keep you and your family organized. Installing one near the fridge in a low hanging area will make it everyone's responsibility to write down and keep track of the items that are running out or are already gone! The Merry Thought has a great tutorial on how to make the list pad shown in this picture. Click here for instructions.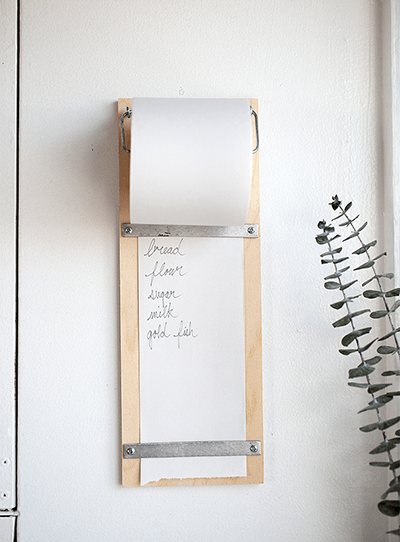 De-clutter your counter
De-clutter your counter by moving storage to your walls! This is a really great way to both organize and style your life in one! More kitchen storage is something that we've probably all wished for one time or another. This is especially true if your home has a small counter-top where space is at a premium (or if you just like to have your counter-top as uncluttered as possible). We love the idea of using blank wall space to create a vertical organization system in a kitchen, so we decided to make our own to keep our new studio kitchen neat and tidy. Click here to see A Beautiful Mess' tutorial for this tip.
Organize your DVDs and CD with plastic sleeves
Ditch the DVD boxes and organize your movies alphabetically with plastic sleeves and small containers! Those DVD boxes and CD cases just take up so much space. Samantha over at Simply Organized shared this great tutorial on how to reduce your DVD collection to 2 small bins! Click here!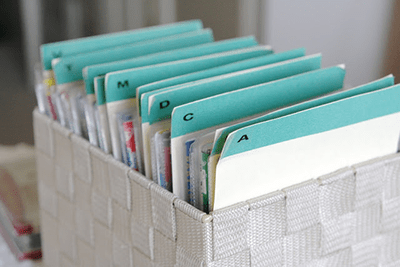 Use binders for important documents
Use this creative binder system to keep all those important documents organized! This system is perfect for bills, tax returns, manuals, notes, mortgage info, and pretty much everything you may need to look at and can't risk losing. This tip was found on A Bowl Full of Lemons.
Hang shoes using crown molding
Use inexpensive crown molding to store your heels in your closet. We know how precious closet space is and you will be happy to see the floors again! This tip was found on Lovelyish.
Store matching sheets inside of their pillowcases
Our linen closets can often become a jumbled up mess of mismatching sheets! Don't let your matching sheets get lost in the linen closet. Use this simple trick: Tuck the sheet set inside one of its pillowcases, and then stack according to size (twin, full, queen, king) or by the room you use the sheets in (master bedroom, guest room.) This tip comes from Martha Stewart.
Picture frames to make wipe boards
Use picture frames to make these wipe boards that'll keep you organized AND they will look good hanging on your wall too. The Chic Site has these free printable templates to add to a 8×10 picture frame. Hang them by the door so everyone can check the lists before heading out.
Wrapping paper contained in a garment bag
Wrapping paper is one of those things that's annoying to store and often get bent or ripped just sitting at the bottom of a closet. Hanging them in a garment bag will prevent them from getting damaged and keep your closet more organized too. This great tip and picture was found on The Chic Site.
Attach under-shelves in a cabinet
Attach under shelves in cabinet to take advantage of all vertical space. This will help keep your cabinets more organized while utilizing all the extra space! Tip found on Kim Flower.
Hanging shoe rack to store cleaning supplies
Hanging over the door shoe racks are great way to store and organize cleaning supplies. All you have to do is place your cleaners, sponges and air fresheners into each little pocket and put the rack in the most convenient place in your kitchen. You can also put it in the bathroom and store extra shampoos and soaps. It's also a good way to keep harmful products out the way of children, if they are placed high enough. Tip found on Huffington Post.
Put cleaning supplies in transportable toolbox
Putting your commonly used cleaning supplies into a carry box will make cleaning easier and more organized. The under sink area is often cluttered with so many cleaning supplies and this is a great way to declutter that area. Plus, once you are motivated to take on the under-sink area and get it organized, it will help you to tackle the much bigger messes needed elsewhere! Tip and image found on The Social Home.
Weekly menu planner
Putting together a weekly menu planner might seem like unnecessary work, but it will actually really help you save time during the week and will better organize your life. Here are just a few menu planning tips you should employ to gain all of these benefits:
To save money: Pick one day to in advance to plan your meals. Create your menu and shopping list at the same time by browsing the sales ad's as well as your cupboard.
To save time: a menu plan gives you the opportunity to prepare entire meals or parts of a meal in advance, use a crock pot whenever you can. Do double duty by choosing meals that have a common ingredient and prepare (pre-cut, pre-soak, pre-wash, pre-cook, etc.) that ingredient all at one time for both dishes
To save your health:Try a new dish and a new seasoning every couple weeks. Keep the food pyramid in mind when menu planning, and include more fresh fruits and vegetables. If you need to, prepare your vegetables, and salads the week in advanced…you'll be more motivated to eat what has already been prepared.
To diversify: Try a new dish and a new seasoning every couple weeks. Glean inspiration from Pinterest Pins, or go online to a recipe directory such as allrecipes.com
To learn more information about this tip visit Home Made by Carmona.